Fantasy | Dark | Emotional | Photography | Works Listed By Theme | About Iribel and F.A.Q.








In My Life

Hello everyone! It's been so long since I updated my journal I don't even know where to start... I've been especially busy with my studies this year since I've been writing my Bachelor's Thesis. As a fantasy freak I obviously had a fantasy novel as a subject – I studied how the fantasy novel in question utilized Nordic myths and mythology, and how this material helped building the secondary world. In the begginning of May, after hours and hours of reading, writing, hair pulling and buckets of coffee I finally finished it. Even better, today I got the results:
my professor gave me A!

I'm so happy now! By the end of this year I should finally be a Bachelor of Arts.
Now that my summer holiday officially began, I hope to be more active around here, too. I'm sorry I haven't been able to answer your comments and take a look at your newest deviations. I'll have some serious browsing to do before I've seen even tenth of them, though. Oh well, they said it will be a rainy week anyway... I should have plenty of time to hang around dA.

Cheers to all of you! Also, once again thank you for all the faves, comments and interest you've shown! I really appreciate your support. Hope you all have a wonderful May!
Best wishes,
Iribel
aka
Linda Kindt




Daily Deviation


Oh wow - my latest work
Play Minstrel Play
got a Daily Deviation!

I can't believe I actually got my third one. Huge HUGE thanks to *
Trisste
and `
Mishelangello
who suggested it, and to `
kuschelirmel
who featured it! I'm absolutely overjoyed.

Thank you so much for your support, everyone!


DZ Magz Interview

Recently I was interviewed for DZ Magz issue 9, and now it's finally out! They featured four artworks of mine, and asked some question about my working methods. Take a look at the interview and some other great artists at their homepage. Download and enjoy!

DZ Magz Issue 9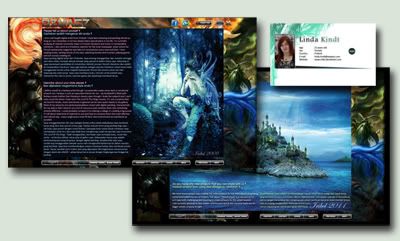 New Group For Blackmore's Night Fans

To put it short: all of my favorite bands have a group of their own except
Blackmore's Night
. That can't be the case for such an awesome band so I simply went and made a group for them. If you have artwork inspired by
Blackmore's Night
or you simply enjoy their music, feel free to join and contribute.



Factory Of Dreams

As many of you probably know I created the artwork for latest
Factory of Dreams
album "Melotronical". It was a huge project that took me most of the last summer and autumn. Knowing how much I love to create art inspired by music I was obviously thrilled. It was a long, challenging and wonderful project to make the entire booklet that includes these images among others:
The album is available both at
ProgRock Records
and
iTunes
. Go get yours!
Homepage – Melotronical.com
Factory of Dreams at MySpace
Hugo Flores music at Facebook
Factory of Dreams at Facebook
Factory of Dreams at Twitter
Factory of Dreams at LastFM

My stamps and icons:
Many thanks to ~WhispersTree, *Sammykaye1sStamps, ~FantasyStockAvatars, *FireLilyAMG, ~GoodiesForYou and ~shadowleoparddreams for creating them!
Stock account of me and Jillianiina:

Digital drawings & stuff:

My dearest ones:



You can also find me on:
Facebook
Twitter
LastFM
YouTube
MySpace
© Iribel 2006-2011
All rights are reserved to *Iribel aka Linda Kindt. Any material in my deviantART gallery may not be used anywhere in any way without my written permission.